Brussels 10 July, 2013: On the evening of July 10, the Office of Tibet, Brussels held a reception at the Albert Hall complex near the European Union headquarters to celebrate the 78th birthday of His Holiness the Dalai Lama.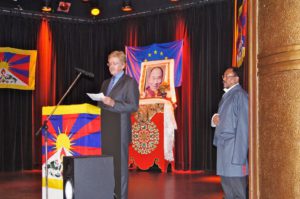 The reception was attended by members of European parliament, members of Belgian parliament, parliamentary assistants of MEPs, foreign diplomats, officials of EU institutions, Representatives of Tibetan Buddhist centers in Belgium, president of Belgian Tibetan community and Tibetan NGOs, Tibet support Groups and various friends of Tibet.
The program for evening began with long life prayers for His Holiness the Dalai Lama by Motok Tulku, Lama Zeupa la and other monks from Yuentenling Institute, a Tibetan Buddhist center based in Huy, Belgium.
The Representative Mr. Ngodup Dorjee welcomed the guests and read out the message of Sikyong Dr. Lobsang Sangay on the occasion of the 78th Birthday of His Holiness the Dalai Lama.
MEP Mr. Thomas Mann, the president of Tibet Intergroup in the European parliament wished His Holiness long life not only for the Tibetans but for the peace and well being of all humanity. He shared with the guests present at the reception the core message His Holiness gave in Bylakuppe, India on July 6 that "the best gift I could receive from you all is the warmheartedness in every individual present here. When faced with challenge and anger please be reminded of my message". Representing members of the Tibet Intergroup in the European parliament, he strongly condemned police firing on Tibetans celebrating His Holiness' birthday in Tawu region of Tibet and rendered it as shameful and inhuman act. He reiterated his commitment to work for the cause of Tibet as parliamentarian and as the president of the Tibet intergroup in EP.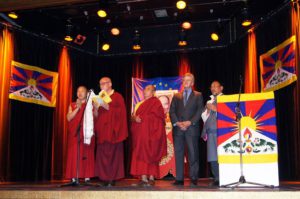 The speeches were then followed by wide range of traditional Tibetan songs performed by Tibetan artist Mr. Kunser and group of Tibetan children from Tibetan cultural center.
Report filed by Office of Tibet, Brussels