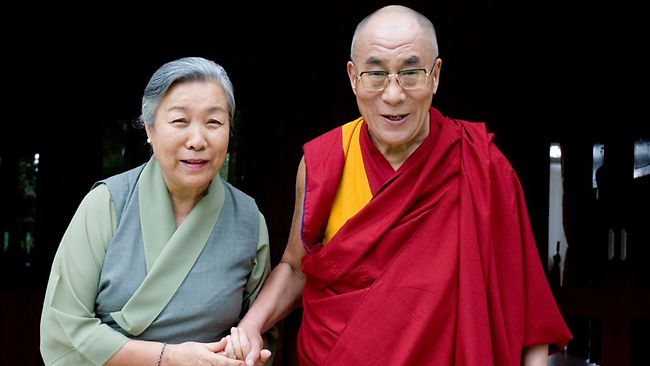 Jetsun Pema, known as mother of Tibet with her brother His Holiness the Dalai Lama
SAN FRANCISCO (Dec. 13, 2012) – The University of San Francisco (USF) will present an honorary doctorate to Jetsun Pema, humanitarian and former president of the Tibetan Children's Villages (TCV). USF President Stephen A. Privett, S.J., will confer the degree during the commencement ceremony for nearly 300 graduates of USF's School of Education and School of Nursing and Health Professions on Friday, Dec. 14, at 3:30 p.m.
"Jetsun Pema has worked for the plight of Tibetan refugee children for more than forty years," said Privett. "The University of San Francisco is proud to honor her life's work and dedication to promoting peace in her country through caring for and educating its children. She models the Jesuit ideal of being a woman for others."
Throughout her 42-year leadership of the TCV, Jetsun Pema has received international recognition for her commitment to the well being of the Tibetan refugee children. For this, the Assembly of Tibetan People's Deputies awarded her the title "Mother of Tibet" in 1995. Pema received the Glory of India Award in 2008, and the United Nations Educational, Scientific and Cultural Organization (UNESCO) medal in 1999. She has also been honored in Italy with the 2006 World's Children Prize for the Rights of the Child (WCPRC), the 2002 Woman of Courage Award and the 2000 International Montessori Award for Education and Peace. Jestun Pema is also the first female Minister in the Tibetan Government-in-exile.
The first Tibetan children's village was formally established in 1972, but her work with the refugee children began years earlier. Jetsun Pema was born in Lhasa, the capital of Tibet, and is a younger sister of His Holiness the 14th Dalai Lama. Through her own education and travels, she knew the hardships faced by exiles and was compelled to help. In June 1964, she was directed by His Holiness to take over the responsibility of running a nursery for Tibetan's refugee children. Through her dynamic leadership and focused purpose, the nursery evolved into the TCV and has become one of the most successfully flourishing Tibetan institutions in exile– opening more residential facilities and schools to accommodate the orphaned children of the refugees who escaped Tibet by crossing the Himalayas. The TCV continues to provide Tibetan orphans with shelter, education and hope for a bright and secure future.
The graduation ceremony will take place at 3:30 PM in St. Ignatius Catholic Church on the USF campus—located at 650 Parker Ave. (at Fulton Street) in San Francisco. A live video stream of the ceremony is available at www.usfca.edu.