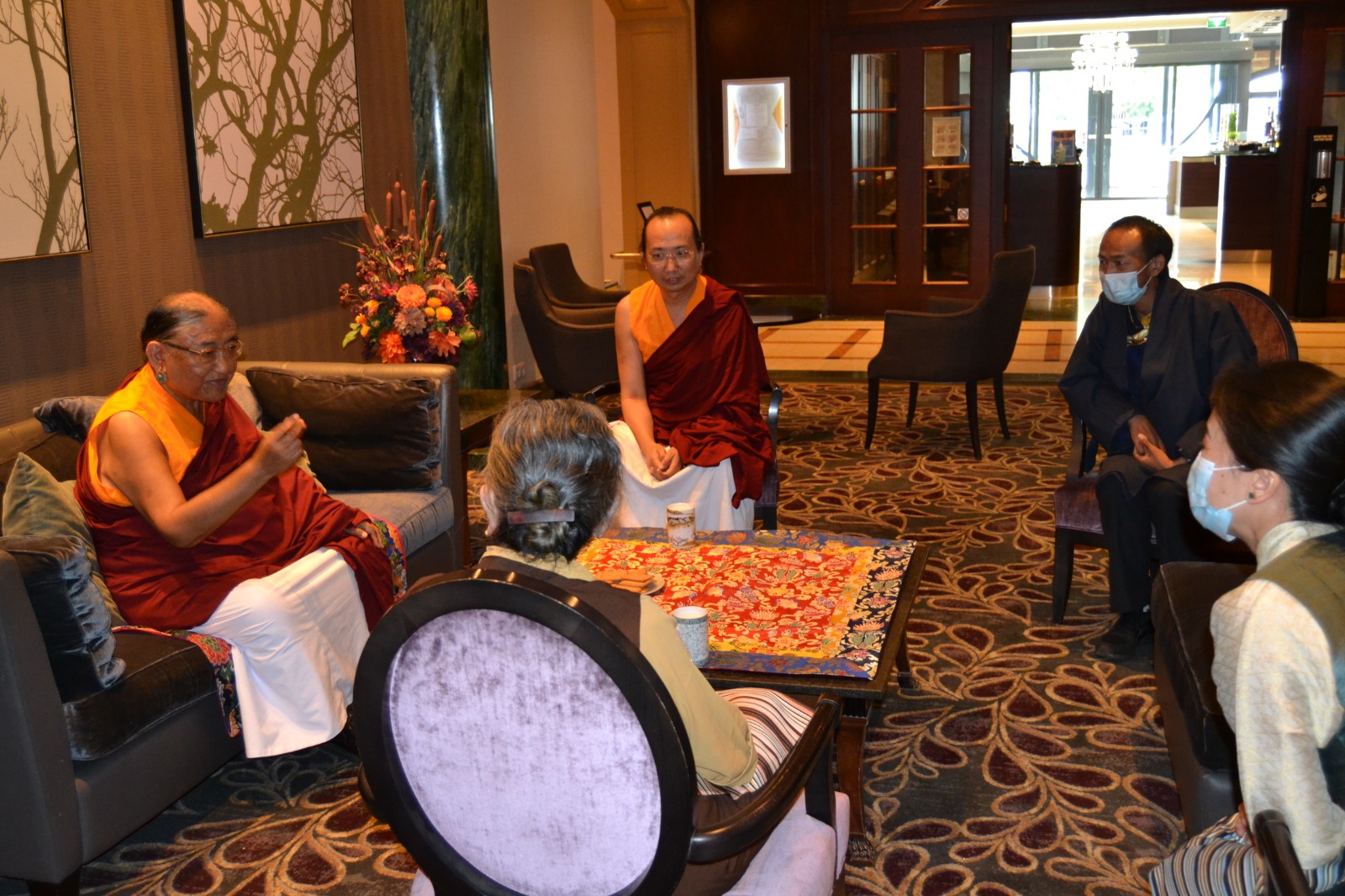 Sakya Gongma Trichen Rinpoche and 42nd Sakya Trizin Ratna Vajra Rinpoche at Hilton in Belgium.The delegation of Sakya Monastery headed by 41st Sakya Gongma Trichen Rinpoche and Ratna Vajra Rinpoche imparted teaching to Tibetan community in Belgium at the request of Sakya Tsechen Association in Belgium.
Representative Rigzin Genkhang and Secretary Thinley Wangdu received the arrival of eminent Sakya Rinpoches on Monday, 25 July at Hilton in Antwerp.
The next day, Sakya Trichen Rinpoche bestowed teaching to some 1300 Tibetans in which, he emphasised imbibement of compassion in daily life, practising teachings of His Holiness the Dalai Lama with a special assert on preserving and nourishing Tibetan language.
President of Belgium's Tsechen Association offered gratitude to the Sakya lamas and presented annual report of the association.
In the afternoon, Sakya Vajra Rinpoche gave an audience to the public following which, mass prayers for the long life of His Holiness the Dalai Lama and Sakya Trichen Rinpoche including prayer service for Tibetan martyrs were held. The same evening, the Tibetan community led by Representative Genkhang celebrated in advance the 78th birthday of Sakya Gongma Trichen Rinpoche.
While explaining the special and close relationship shared between Sakya Gongma Trichen Rinpoche and His Holiness the Dalai Lama, she expressed her overwhelming gratitude for Gongma Rinpoche's visit to Belgium.
The next day, on 28 July, both Sakya Rinpoches and their entourage left for Paris where they will give teaching to the Tibetan community there.