September 18, 2012 10:57 am
Mr Thomas Mann, (3rd L) speaking at the Tibetan flame of truth torch relay in Brussels, Belgium, on 17 September 2012
BRUSSELS: The Tibetan flame of truth torch relay led Ven. Thupten Wangchen, member of Tibetan Parliament, reached Brussels from London yesterday.  The president of Tibetan community and the executive members of Tibetan organisations in Belgium received the torch relay at Bassillique de Koekelberg, located outside the city of Brussels. It then moved on to the reception programme organised by the local organising committee headed by the Office of Tibet, Brussels, at the Place du Luxembourg in front of European Parliament.
On its arrival at the Place du Luxembourg, the torch relay was received by MEP Mr Thomas Mann, the president of Tibet Intergroup in the European parliament, Mr Tunne Kelam MEP, Mr Ngodup Dorjee, the Representative of His Holiness the Dalai Lama, members of local Tibet Support groups and local Tibetans.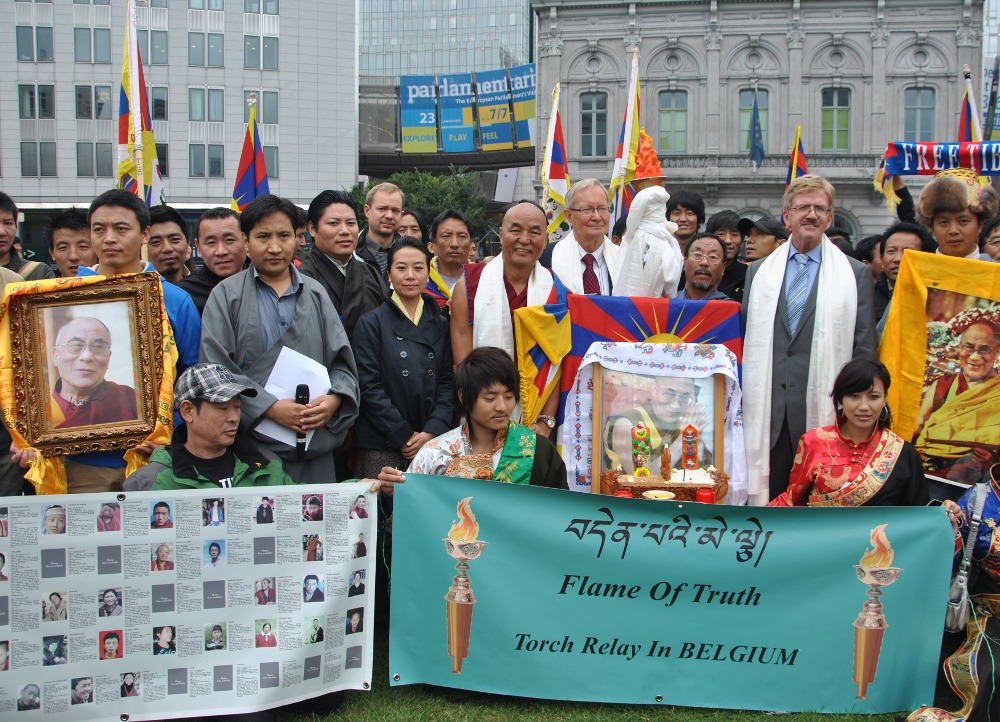 Tibetan flame of truth relay in Brussels on 17 September 2012
In his introductory speech, Ven Thupten Wangchen spoke on the reasons behind organising the world-wide flame of truth campaign and the worsening situation inside Tibet. He called upon the European Union, the national governments of member states and the international community, to stand in solidarity with Tibet. He expressed his gratitude to the members of European Parliament for their steadfast support for Tibet over the years. He also thanked Mr Thomas Mann and Mr Tunne Kelam, office bearers of Tibet Intergroup MEPs, TSG members and Tibetans for their presence and show of support for the campaign.
Mr Thomas Mann welcomed the flame of truth relay to Brussels and reiterated his support for the cause of Tibet. He recounted the efforts being made by the members of European Parliament to raise Tibet's issue within EU and said that Tibet Intergroup would continue to work towards appointment of an EU special coordinator for Tibet.
During one and half hour long reception function, Mr Tunne Kelam, MEP, Mr Ngodup Dorjee, the Representative of His Holiness the Dalai Lama, Mr Vincent Metten, the executive director of ICT, Brussels, Mr Dennis Barbion President Tibetaans Vlaamse Vriendenkring, Belgium, Mr Thupten Phegyal, President of Tibetan community, also spoke on a wide range of issues surrounding the critical situation inside Tibet.
The reception function was attended by local Tibetans, Belgian friends of Tibet, and media persons in large numbers.
During the four-day flame of truth relay in Belgium from 17 – 20 September, the local organising committee will hold rallies, processions and signature campaigns in Brussels and Antwerpen.
Report filed by Office of Tibet, Brussels